Hereby you can download marvel's the avengers iron man mark vii Comics app for free. The Avengers-Iron Man Mark VII is an epic interactive comic book experience due to its design logos of Super hero. The application consists of The application consists of fifteen pages scripted by Fred Van Lente and drawn by the artist Steve Kurth, the same which is accompanied at all times by the soundtrack of the two IronMan movies. Iron man mark 7 comics app is available free and you can get it directly from Google play store.
Iron Man Mark VII App for Android
The APK files of Avengers-Iron Man Mark VII will help you to direct downloading of the game. We are sharing Avengers-Iron Man Mark VII APK free download file of the latest versions. The installs of Avengers-Iron Man Mark VII app is 1,000,000 – 5,000,000. We do not provide any pirated version of APK files. Like Perfect Viewer Android Comics App, this app is also fantastic to play.
Read: Marvel Comics App Download
New features of Avengers-Iron Man Mark VII Walkthrough App
"Read Myself" mode with touchable words.
"Read to Me" mode with word highlighting.
15+ pages of an all-new story by fan fave creators, writer Fred Van Lente and artist Steve Kurth. Plus an all-new cover by the legendary Adi Granov.
Dozens of interactions that react to tilt, touch, and drag to give you full control over the experience.
Hit musical soundtrack from the Iron Man and Iron Man II movies.
Innovative new sliding panel navigation to immerse you in comics like never before.
Specifications of Iron man Mark 7 v.1.2 Apk
Google Play Store Rating – 4.2
Android Required – 2.2 and up
Size – 35 MB
Current Version – 1.2
Updated – July 3, 2013
Screenshots for Iron Man Mark 7 Comics App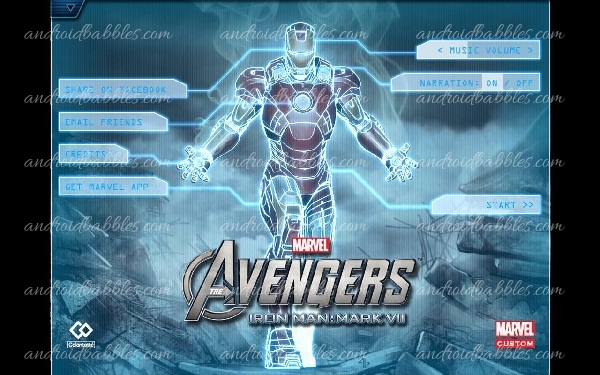 Avengers-Iron Man Mark VII is one of popular epic comic. The app is flawless. The Avengers Iron man Mark 7 Android app is been developed by Loud Crow Interactive Inc.. Other popular free and paid android apps by this developer are:
Download Iron Man Mark VII Apk Free
Busytorn Mysteries – free Android App
Foggy's Big Fright – Paid
Windy's Lost Kite- Paid
Sunny's Dark Night – Paid
Mild and Mellow's Holiday Light – Paid
Bramble Berry – Little people- Paid
The Bonytin Collected – Paid
But not the Hippopotamus – Paid
Brmable Berry Tales Sasquatch – Paid
Bramble Berry Tales Kalkalilh – Paid
Charlie's Bown's All Stars! – Paid
My Charlie Brown Xmas Tree – Paid
Goodnight moon – Paid
Great Pumpkin charlie  – Paid Brown
Blue hat- Green hat- Bonyton  – Paid
Popout! Tale of Bnejamin Bunny – Paid
A Charlie Brown Christmas – Paid
Popout! Night Before Christmas – Paid
Barnyard Dance ! Bonyton – Paid
Popout! Tale of quirrel Nutkin – Paid
Moo, Baa, La La La!- Bonyton – Paid
The going to Bed Book- Bonyton – Paid
Popout! Tale of Peter Rabbit – Paid
Other Popular Android Comics App are
Marvel Comics App Free download
Perfect Viewer Android Apk Download
Marvel Comics Android App Download Free
Incoming search terms:
spiderman comic in hindi apk