The Candy Crush Saga is the latest and one of most popular games available for the Android, iOS, Facebook and online. Basically, it is a puzzler but a variation on the theme in which gems swapped with tasty candy, sweets and other tasty treats. The game is full of fun flavours.
Candy Crush Saga Review – The flavoursome Mobile Game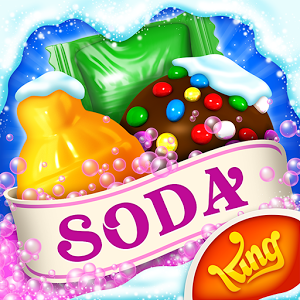 Candy Crush Saga Overview:
The Candy Crush Saga invites you to join Mr. Toffee and Tiffi on a hilarious journey through the world of candy. You match the sweets in a line of three or more to gain the points and bonuses. The more sweets and candy you match in each move the faster you will clear the stage and get more points.
Candy Crush Saga Game Format:
As step by step, you move towards the high level will get the slight changes in each level of Candy Crush Saga whether you have get rid of all the sweets encased in jelly within a certain number of moves within a given amount of time or you have to drop various ingredients for tasty recipe to the bottom of the grid. It contains the more than 100 levels, which enclose many episodes such as Lemonade Lake and Candy Factory.
You will be awarded up to three stars for each level, and you can also play the previous level again in   hope of targeting a perfect score. Candy Crush Saga will offer you five chances to screw up and as loose the 5 chances, you must either put down the game or wait for the health to be refilled. You also have another option is that stock up by requesting your Facebook friends or spending the real cash.
Candy Crush Saga Features:
Complete adventurous levels and unlock treats.
Easily synchronize the game between devices and unlock full game features when connected to the Internet.
Easy and fun to play, challenging to master
Helpful magical boosters are available to help with challenging levels
Hundreds of sweet levels in the Candy Kingdom – more added every 2 weeks.
Leader boards to watch your friends and competitors.
Tasty candy graphics that will leave you hungry for more.
Unwrap delicious environments and meet the sweetest characters.
Candy Crush Saga Specifications:
Google Play Store Rating – 4.3
Android Required – 2.3 and up
Size – 47.22 MB
Current Version- 1.41.0
Simply connect your Facebook account and you can play the game via your PC, tablet or smartphone. Facebook interaction also enables you to compete with friends. Once you get to level 35 Candy Crush starts charging 69 p per episode. The only way to get around this is to link the game to your Facebook account and annoy your friends.
Candy Crush Saga Verdict:
The Candy Crush Saga is really a flavoursome addictive puzzle game that anyone can play easily. The more attractive point is you can play it anywhere from any device online. But the most frustrated point at which you lose your life and you have to wait for replenishment. But all over the game is full of fun. If you have any query regarding the post or you find the post helpful, you can mention it in comments.